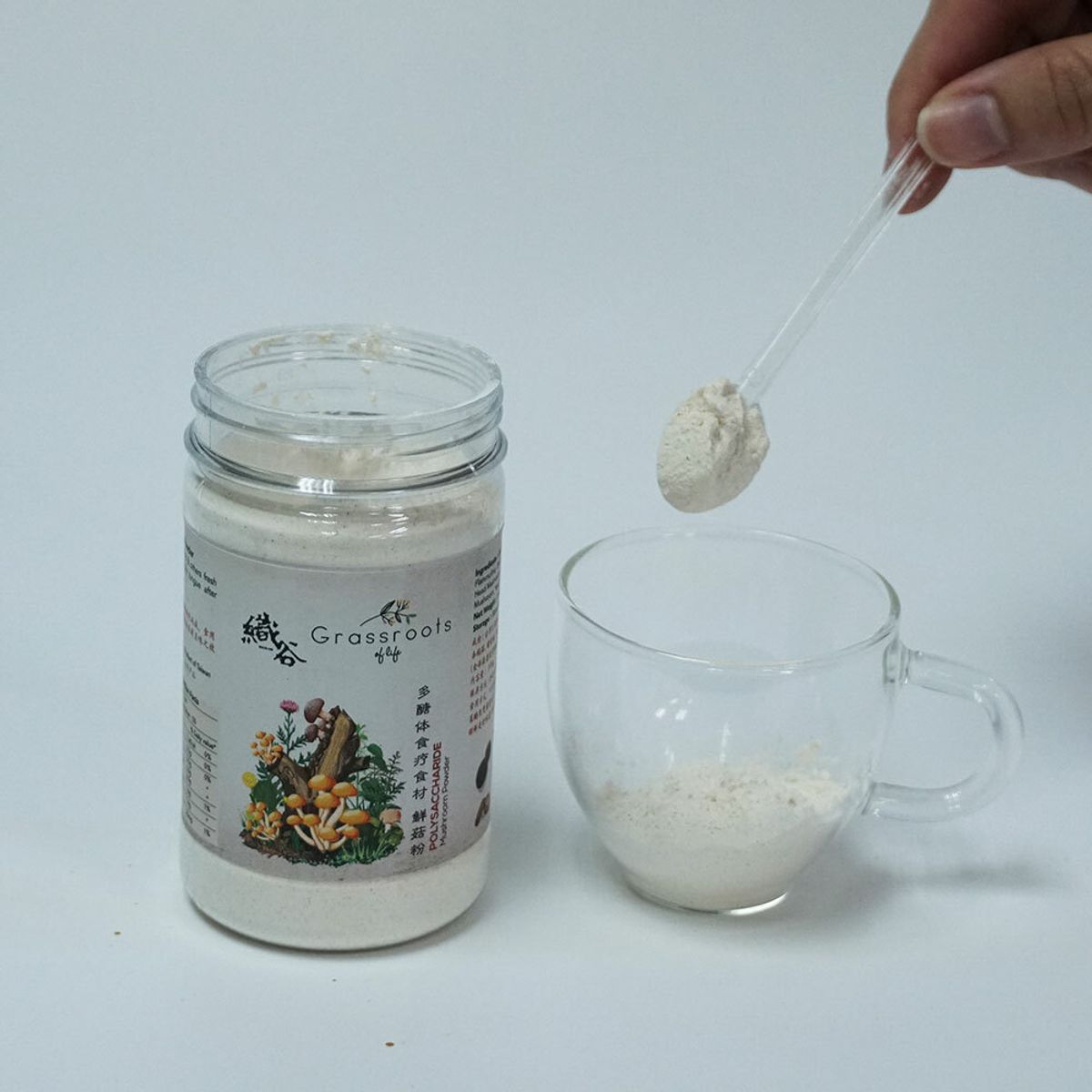 一提到菇類的營養素,很多人都會想到「多醣體」。
When it comes to the nutrients of mushrooms, many people think of "polysaccharides."
一般常識都曉得菇類擁有:增強免疫力和抗癌兩大好處。
Common sense knows that mushrooms have the two benefits of enhancing immunity and fighting cancer.
其實,多醣體還有更多數不清的功效,而且在大自然除了菇類還有許多天然食材所含的多醣體都不同,這些多醣體一般也各自有不太一樣的功用但也都能增強免疫力。
In fact, polysaccharides have more and more unclear effects, and in addition to mushrooms, there are many natural foods that contain different polysaccharides. These polysaccharides generally have different functions but they can also Enhance immunity.
如何增強免疫機制以對抗外來病菌及威脅?
How to enhance defense mechanisms to overcome foreign germs and threats?
多醣體通過腸道進入人體直接被吸收。我們的腸道沒辦法消化吸收分子量這麼大的多醣體,所以這些多醣體會在腸道中不停碰撞,這個碰撞的過程也活化了體內沉睡的免疫細胞,喚醒免疫系統準備迎戰外來的威脅。
The polysaccharide is directly absorbed into the body through the intestinal tract. Our gut can't digest the polysaccharides with such a large molecular weight, so these polysaccharides will collide in the intestines. This collision process also activates the sleeping immune cells in the body and wakes up the immune system to face the external threat.
增強免疫力如何提供生理功能啟動抗癌機制?
How does enhancing immunity provide physiological functions to initiate anti-cancer mechanisms?
「醣」是細胞表面的蛋白質上面 , 細胞和細胞之間傳遞訊息的媒介。而人體內擔任防禦功能的免疫細胞, 也是藉由結合蛋白質上面的醣,來傳遞防禦外來入侵物的免疫訊息。而當人體發生癌症時,癌細胞也會使細胞的表面產生不正常醣質,阻止人體免疫系統發現它的破壞,又讓細胞傳遞錯誤訊息,使不正常癌細胞得以快速複製、發展。因此研究者發現,人體細胞上的蛋白質必須結合醣,發生蛋白質醣化才能表現出它的功能。
"Saccharide" is a medium that transmits information between cells on the surface of cells and between cells. The immune cells that act as defensive functions in the human body also transmit immune messages against foreign invaders by binding the saccharide on the protein. When the human body develops cancer, the cancer cells will also cause abnormal saccharide formation on the surface of the cells, prevent the human immune system from discovering its destruction, and let the cells transmit wrong messages, so that abnormal cancer cells can be quickly copied and developed. Therefore, the researchers found that proteins on human cells must bind to saccharide, and protein saccharide formation can performed in accordance to its normal function.
所以在日常生活中,適當的食用多醣体食材,如巴西蘑菇粉,多糖體麥芽膏及純釀麥芽飲有助於提升免疫力,以維持良好健康水平;同時也提供生理功能提升抗癌效果的機會,维持美好的生活品质。
Therefore, in daily life, proper consumption of polysaccharide foods, such as Brazilian mushroom powder, polysaccharide malt extract and pure malt drink can help improve immunity to maintain good health; it also provides physiological functions to enhance anti-cancer. The opportunity for results to maintain a good quality of life.