产品亮点:
以肥皂草取代石化界面活性劑,搭配植物精油及精露,清潔時可聞到清新草本香氣,迷迭香精油及檸檬草精油可調理肌膚油脂分泌,清潔後的肌膚感受潤澤乾淨不緊繃。不含香精及防腐劑,不添加水或純水稀釋調配,純淨配方與宜人氣味,讓您洗澡後感到全然的放鬆。
適合
全膚質。
氣味
清新草本香辛味,使用過程會散發出淡淡的草香味。
質地狀態
液態帶有一點濃稠度。
使用說明
以溫水將身體沖溼,取適量沐浴露於手中,以按摩方式去除全身油汙,可針對局部加強清潔,並以清水沖淨即可。
洗用時的感覺
帶有滑潤感,使用手掌按摩清潔時泡沫不多,但不影響潔淨力。如使用沐浴棉(球)泡沫量會增加。清潔沖淨後,肌膚觸感舒適細緻。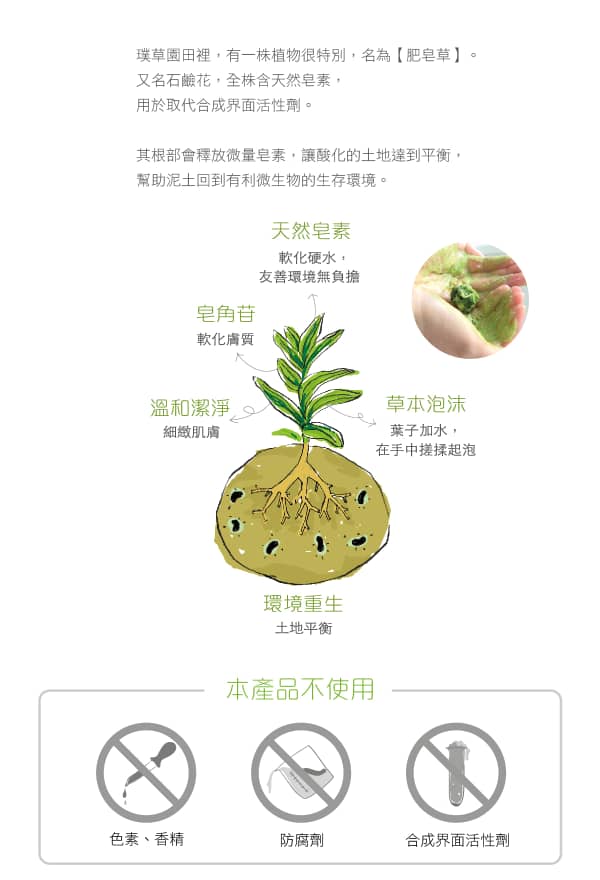 成分:
肥皂草萃取物、綠薄荷精露、迷迭香精油、檸檬草精油、薄荷精油、可可脂葡萄糖苷、天門冬氨酸、硬脂酸、海洋深層水原液。
Product Highlights:
Use soapwort instead of petrochemical surfactants, combined with plant essential oils and essences, you can smell fresh herbal scents when cleaning, rosemary essential oils and lemongrass essential oils can regulate the skin's oil secretion, and the cleansed skin will feel moist, clean and not tight. No fragrance and preservatives, no added water or diluted with pure water, pure formula and pleasant smell, let you feel completely relaxed after bathing.
Suitable for
all skin types.
Smell is
fresh and herbaceous and spicy, with a faint grassy scent during use.
Texture state
Liquid with a little consistency.
Instructions
for use Wash the body with warm water, take a proper amount of shower gel in the hands, massage to remove the body oil, it can strengthen the cleansing of the local area, and rinse with water.
Ingredients :
Saponaria Officinalis Leaf Extract,Spearmint Hydrosol,Rosemary Oil,Lemongrass Oil,Peppermint Oil,Coco-Glucoside,Trisodium Ethylenediamine Disuccinate,Tetrastearate,Deep Ocean Water DOW.
貼心叮嚀
1. 外用商品,如不慎流入眼睛,請以大量清水沖洗。
2. 天然物製成,因季節採收不同,氣味、狀態等會有所差異,屬正常現象不影響品質,請安心使用。
Precaution:
In case of contact with eyes, rinse immediately with plenty of water.
Ingredients are Pure Natural. The scent and status will be different depend on harvest season.