产品亮点:
12草本精油潔牙凝膠 舒敏有感 (保護牙齦 清潔口腔)
凝膠質地 多種草本精油配方
正常或牙齦敏感清潔牙齒口腔使用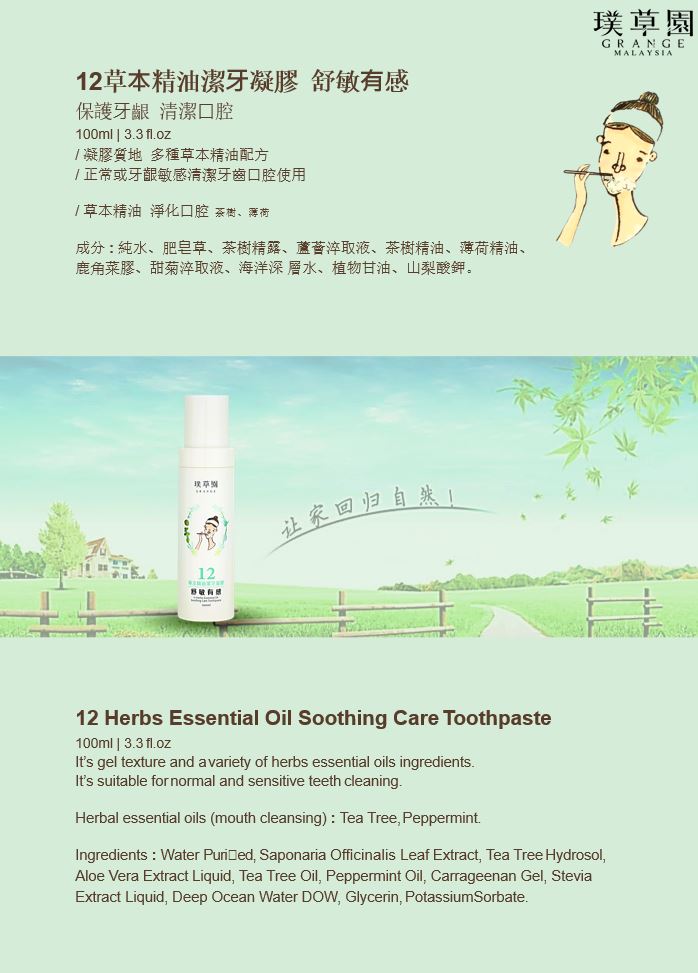 成分:
草本精油 淨化口腔 :- 茶樹、薄荷
純水、肥皂草、茶樹精露、蘆薈淬取液、茶樹精油、薄荷精油、鹿角菜膠、甜
菊淬取液、海洋深 層水、植物甘油、山梨酸鉀。
Product Highlights:
RM68 / 100ml | 3.3 fl.oz (Suitable for adults and children)
It's gel texture and a variety of herbs essential oils ingredients. It's suitable for
normal and sensitive teeth cleaning.
Ingredients :
Water Purified, Saponaria Officinalis Leaf Extract,Tea Tree Hydrosol, Aloe Vera
Extract Liquid, Tea Tree Oil, Peppermint Oil, Carrageenan Gel, Stevia Extract
Liquid, Deep Ocean Water DOW, Glycerin, PotassiumSorbate.
Herbal essential oils (mouth cleansing) : Tea Tree, Peppermint.
貼心叮嚀
1. 外用商品,如不慎流入眼睛,請以大量清水沖洗。
2. 天然物製成,因季節採收不同,氣味、狀態等會有所差異,屬正常現象不影響品質,請安心使用。
Precaution:
In case of contact with eyes, rinse immediately with plenty of water.
Ingredients are Pure Natural. The scent and status will be different depend on harvest season.