产品亮点:
12草本精油潔牙慕斯沁新味覺 (清新口腔 消除口臭)
綿密慕斯 結合多種草本精油配方
正常或口腔氣味明顯者使用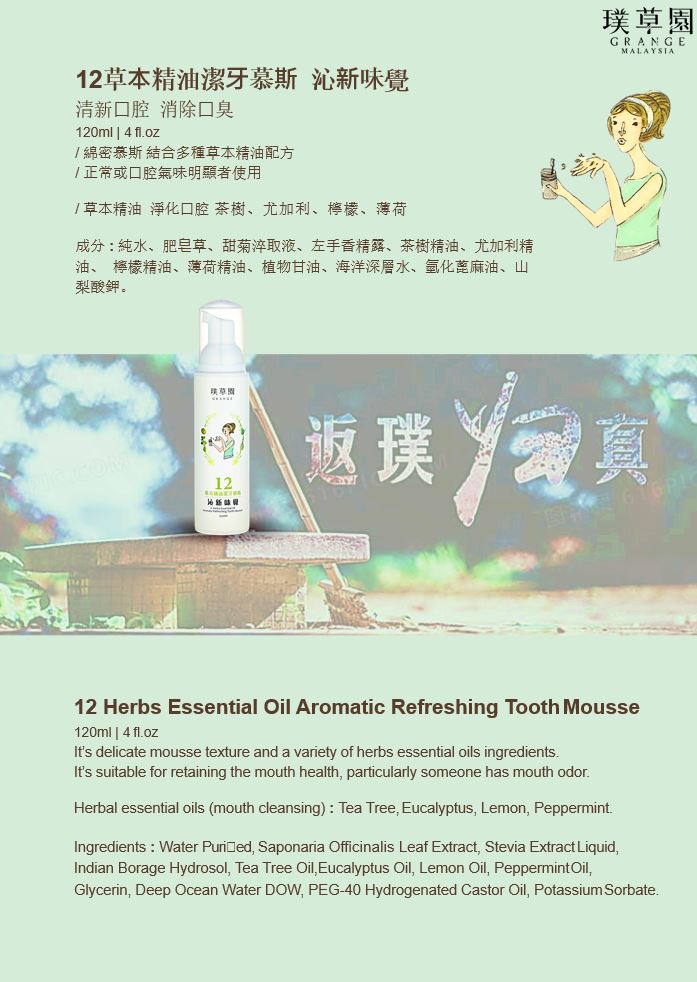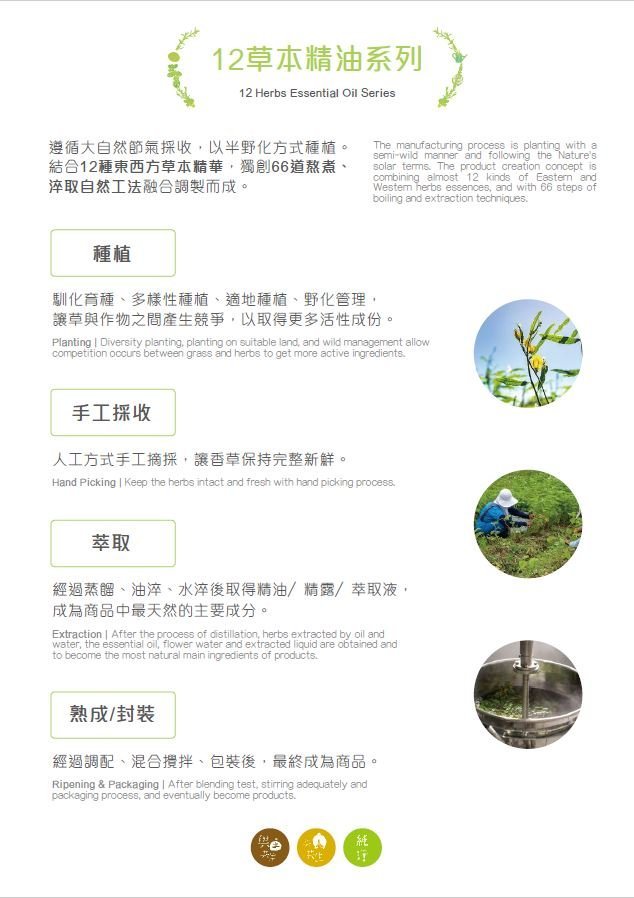 成分:
草本精油 淨化口腔 :- 茶樹、尤加利、檸檬、薄荷
純水、肥皂草、甜菊淬取液、左手香精露、茶樹精油、尤加利精油、檸檬精
油、薄荷精油、植物 甘油、海洋深層水、氫化蓖麻油、山梨酸鉀。
RM68 / 120ml | 4 fl.oz (Suitable for adults and children)
Product Highlights:
It's delicate mousse texture and a variety of herbs essential oils ingredients. It's
suitable for retaining the mouth health, particularly someone has mouth odor.
Herbal essential oils :- (mouth cleansing) : Tea Tree, Eucalyptus, Lemon,
Peppermint.
Ingredients :
Water Purified, Saponaria Officinalis Leaf Extract, Stevia Extract Liquid,Indian
Borage Hydrosol, Tea Tree Oil, Eucalyptus Oil, Lemon Oil, Peppermint Oil,
Glycerin, Deep Ocean Water DOW, PEG-40 Hydrogenated Castor Oil, Potassium
Sorbate.
貼心叮嚀
1. 外用商品,如不慎流入眼睛,請以大量清水沖洗。
2. 天然物製成,因季節採收不同,氣味、狀態等會有所差異,屬正常現象不影響品質,請安心使用。
Precaution:
In case of contact with eyes, rinse immediately with plenty of water.
Ingredients are Pure Natural. The scent and status will be different depend on harvest season.