产品亮点:
12 草本精油淨膚露草本舒爽 (淨化肌膚 清新舒爽)
富含多種西方草本精油 清新氣味 洗淨後能感受乾淨清爽
身體、私密處沐浴清潔使用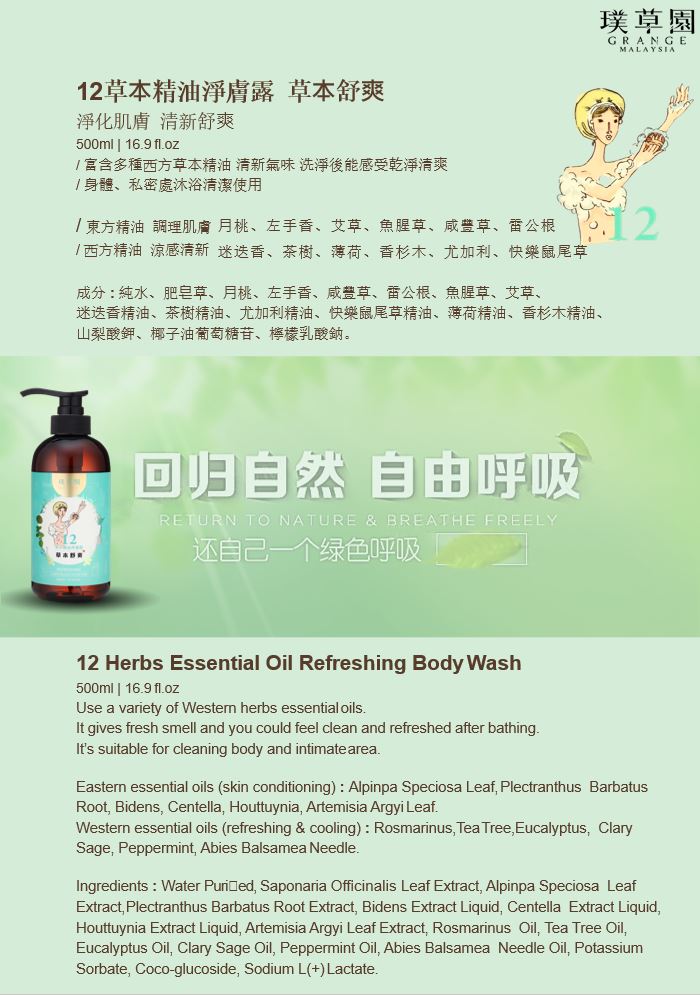 功效 :
東方精油 調理肌膚 :- 月桃、左手香、艾草、魚腥草、咸豐草、雷公根
西方精油 涼感清新 :- 迷迭香、茶樹、薄荷、香杉木、尤加利、快樂鼠尾草
成分:
純水、肥皂草、月桃、左手香、咸豐草、雷公根、魚腥草、艾草、迷迭香精
油、茶樹精油、尤加 利精油、快樂鼠尾草精油、薄荷精油、香杉木精油、山梨
酸鉀、椰子油葡萄糖苷、檸檬乳酸鈉。
Product Highlights:
500ml | 16.9 fl.oz ( suitable for adults and children )
Use a variety of Western herbs essential oils.
It gives fresh smell and you could feel clean and refreshed after bathing.
It's suitable for cleaning body and intimate area.
Efficacy :
Eastern essential oils :- (skin conditioning) : Alpinpa Speciosa Leaf, Plectranthus
Barbatus Root, Bidens, Centella, Houttuynia, Artemisia Argyi Leaf.
Western essential oils :- (refreshing & cooling) : Rosmarinus, Tea Tree,Eucalyptus,
Clary Sage, Peppermint, Abies Balsamea Needle.
Ingredients :
Water Purified, Saponaria Officinalis Leaf Extract, Alpinpa Speciosa Leaf Extract,
Plectranthus Barbatus Root Extract, Bidens Extract Liquid, Centella Extract
Liquid, Houttuynia Extract Liquid, Artemisia Argyi Leaf Extract, Rosmarinus Oil,
Tea Tree Oil, Eucalyptus Oil, Clary Sage Oil, Peppermint Oil, Abies Balsamea
Needle Oil, Potassium Sorbate, Coco-glucoside, Sodium L(+) Lactate.
貼心叮嚀
1. 外用商品,如不慎流入眼睛,請以大量清水沖洗。
2. 天然物製成,因季節採收不同,氣味、狀態等會有所差異,屬正常現象不影響品質,請安心使用。
Precaution:
In case of contact with eyes, rinse immediately with plenty of water.
Ingredients are Pure Natural. The scent and status will be different depend on harvest season.