Buy 2 free 1 12Herbs Essential Oil Travel Set
产品亮点:
12草本精油洗髮露 堅強髮根 [ 改善落髮 活化髮根 ]
東方草本精華搭配多種西方活化特性精油
正常或易掉髮頭皮髮質清潔使用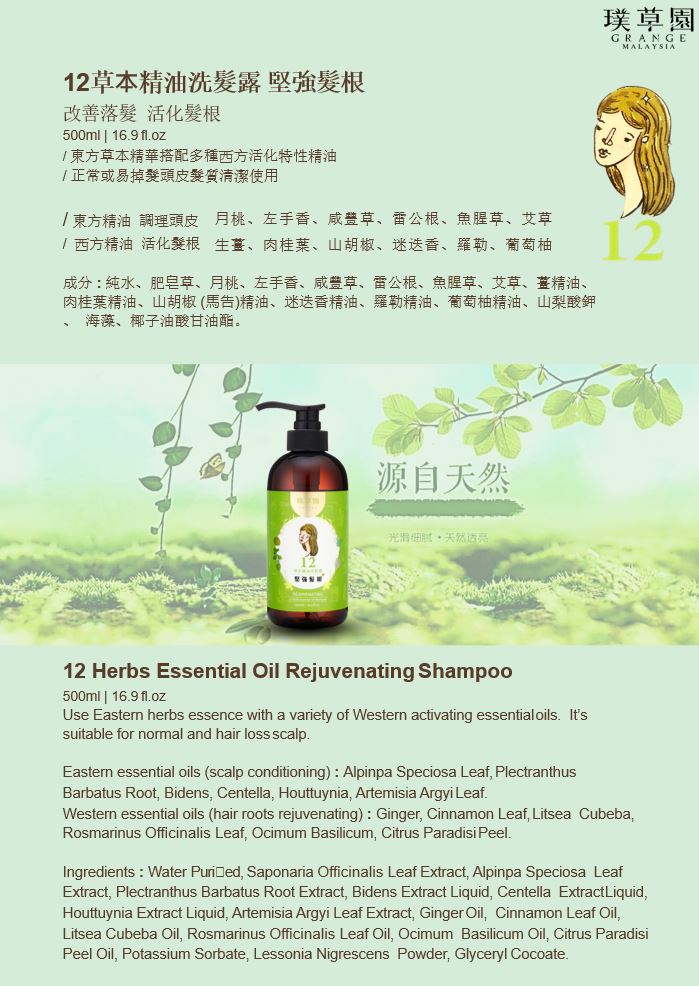 功效 :

東方精油 調理頭皮 :- 月桃、左手香、咸豐草、雷公根、魚腥草、艾草
西方精油 活化髮根 :- 生薑、肉桂葉、山胡椒、迷迭香、羅勒、葡萄柚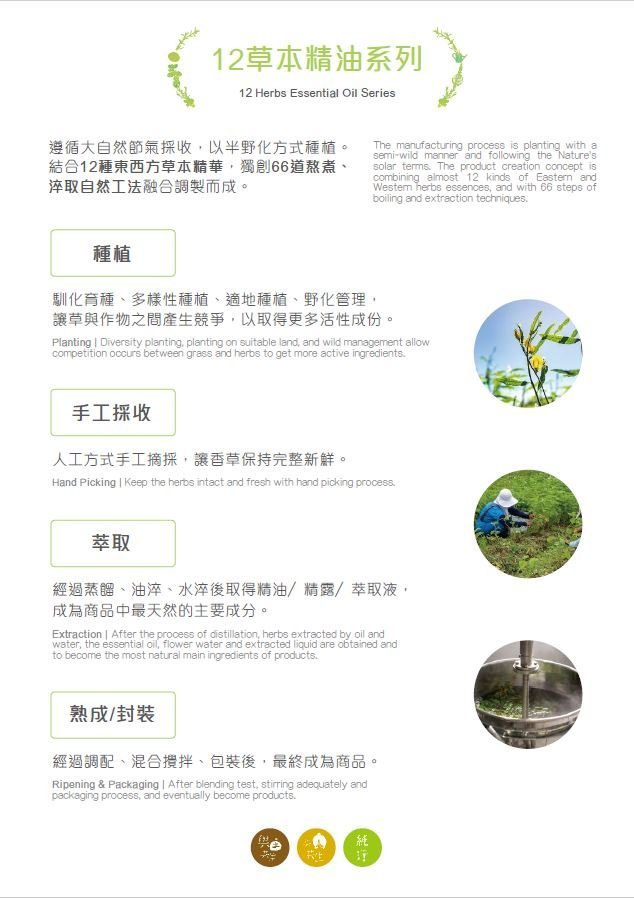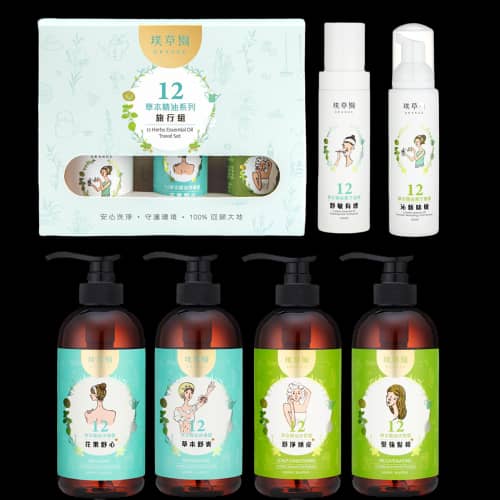 成分:

純水、肥皂草、月桃、左手香、咸豐草、雷公根、魚腥草、艾草、薑精油、肉
桂葉精油、山胡椒 (馬告)精油、迷迭香精油、羅勒精油、葡萄柚精油、山梨酸
鉀、海藻、椰子油酸甘油酯
Product Highlights:
500ml | 16.9 fl.oz (Suitable for adults and children)
Use Eastern herbs essence with a variety of Western activating essential oils.
It's suitable for normal and hair loss scalp.
Efficacy :
Eastern essential oils :- (scalp conditioning) : Alpinpa Speciosa Leaf, Plectranthus
Barbatus Root, Bidens, Centella, Houttuynia, Artemisia Argyi Leaf.
Western essential oils :- (hair roots rejuvenating) : Ginger, Cinnamon Leaf, Litsea
Cubeba, Rosmarinus Officinalis Leaf, Ocimum Basilicum, Citrus Paradisi Peel.
Ingredients :

Water Purified, Saponaria Officinalis Leaf Extract, Alpinpa Speciosa Leaf Extract,
Plectranthus Barbatus Root Extract, Bidens Extract Liquid, Centella Extract
Liquid, Houttuynia Extract Liquid, Artemisia Argyi Leaf Extract, Ginger Oil,
Cinnamon Leaf Oil, Litsea Cubeba Oil, Rosmarinus Officinalis Leaf Oil, Ocimum
Basilicum Oil, Citrus Paradisi Peel Oil, Potassium Sorbate, Lessonia Nigrescens
Powder, Glyceryl Cocoate
貼心叮嚀
1. 外用商品,如不慎流入眼睛,請以大量清水沖洗。
2. 天然物製成,因季節採收不同,氣味、狀態等會有所差異,屬正常現象不影響品質,請安心使用。
Precaution:
In case of contact with eyes, rinse immediately with plenty of water.
Ingredients are Pure Natural. The scent and status will be different depend on harvest season.